Building a stronger, more resilient world
Truly discovering what lies beneath the ground, in the sky and the human body and brain with quantum sensing and timing
Our Story
£94 million
Treasury has committed £94 million to the UK National Quantum Technologies Programme for the second phase (2019-2024).
Gravity sensors
Quantum sensors have the potential to provide better sensitivity and reduced survey times, lowering survey costs and enabling a more prolific use of gravity surveys.
Quantum clocks
Quantum clocks will provide crucial resilience in a world overly reliant on GNSS networks, which faces multiple threats from malicious attacks like jamming, spoofing or state aggression, to rare but real perils like solar flares and space weather.
£23.5 million
Received in the second phase of the UK Quantum Technology Hub Sensors and Timing to develop real-world applications by harnessing the power of quantum physics. These will have significant impact in sectors important to the UK.
£4 billion
Quantum sensors will contribute over £4bn per year to the UK economy.
Magnetic sensors in healthcare
Innovation in quantum technology will improve our understanding of everything from basic cognition to dementia and ADHD
We're working with businesses around the globe.
Study With Us.
The PhD Translational Quantum Technology programme offers a unique opportunity for students to undertake research in a multi-disciplinary environment with science, engineering and industry expertise. Hear it from our students: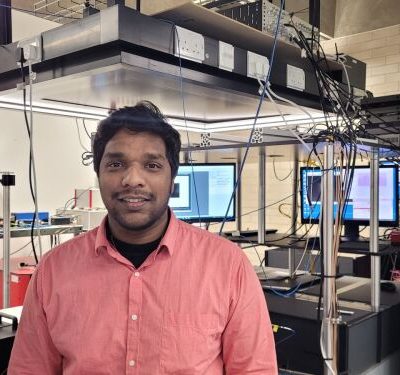 Jithin Kannanthara
BAE Systems i-Case programme student
I studied for my Bachelor of Science and Master of Science at the Indian Institute of Science Education and Research in Pune, India. After completion, I began looking for PhD positions in Europe. I had heard of Prof Kai Bongs and Dr Yeshpal Singh from the papers they had written, and also from their visits to the Institute, which sparked my interest in the QT Hub Sensors and Timing. I successfully applied and interviewed for the EPSRC i-CASE programme, funded by BAE Systems, where I work with the quantum clocks and radar teams to develop quantum-enabled radar technology to detect incredibly small and slowly moving targets, such as drones, in the airspace, even within cluttered environments. This application will become increasingly important for the future as more companies develop vehicles intended for the airspace. The history of radar development greatly interests me, and I'm excited about the potential of swapping classical oscillators with quantum oscillators, as this will mean a performance enhancement by a factor of about 1000. The Hub is a large community, and has a highly regarded international reputation, which has many advantages such as being able to easily access components or technology, so work can continue uninterrupted. There is always someone to talk to about my work – it's very helpful being around so many post-docs and fellow PhDs. Collaborating with industry companies is also incredibly helpful for our research, and also on a personal career level. I am always on the lookout for post doc positions/industry positions so it's great to have this contact and exposure.
Hannah Coleman
Undergraduate student
I am a final year physics undergraduate at the University of Nottingham. For the past few years I have been a part of the outreach team working with Prof Matt Brookes and Prof Mark Fromhold (both part of the UK Quantum Technology Hub Sensors and Timing) at flagship science festivals such as The Royal Society Summer Science Festival, Cheltenham Science Festival and New Scientist Live. I hugely enjoy explaining our Hub work to the public at these events, and interacting with other scientists and potential future collaborators. It's also been amazing to have the opportunity, especially as an undergraduate, to work with Hub researchers and see how their pioneering work feeds into the Hub. What excites me most about the Hub is being part of such a multi-disciplinary group working on really exciting science that has numerous, wide-ranging applications.